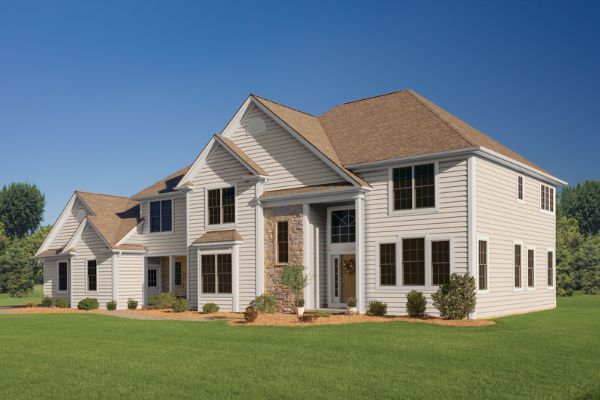 We can make your home virtually maintenance free saving you hundreds or even thousands of dollars over the life-time of your home. Imagine never having to paint again? By adding energy saving vinyl siding to your home or project you can be free from the continuous work and high costs associated with having to paint each year. No more messy paint buckets or ladders in the garage. Say goodbye to exterior noise intruding into your home and say hello to cooler walls and interior environments. Our vinyl siding comes with an underlayment insulation package which helps to bump up wall insulation known as R-values. Thus you can rest easier and more comfortably in your favorite room without having to turn on air conditioning. See for yourself just how beautiful your new siding can make your home look.  Try our customer satisfaction guarantee and find out what others are experiencing. Also be sure to check out our customer feedback page.  If you are interested in getting a free estimate please contact me via the link below.
Here is a small list of some of the benefits of Vinyl Siding.
Vinyl never needs painting (say goodbye to yearly decay).
Vinyl siding is cheaper than painting in the long run. (How many times must you paint?).
Vinyl is completely Water Proof.
Termites won't eat this!
The color is embolden, (40 times thicker than paint).
Vinyl siding comes with a lifetime transferable warranty.
Vinyl siding needs little cleaning or maintenance. (A garden hose and water will do the trick).
Vinyl siding actually saves you money on your energy bills. (An insulation underlayment increases the R-value).
Vinyl siding adds to the curb appeal, which is so coveted for resale in any market.
Vinyl siding will outlast most of us by a long long time. Which is why manufacturers give it a lifetime warranty.
Vinyl siding can improve the look of virtually any home. Its popularity is rapidly increasing as more homeowners discover its benefits. By installing siding made from vinyl on your house, you can easily update and modernize the exterior while giving your home instant curb appeal. There are numerous advantages that this type of siding offers in comparison to the other options available.
When it comes to vinyl siding benefits, durability is at the top of the list. This siding can withstand harsh temperatures, rain, snow, sunlight and wind, and it doesn't't easily fade, crack, peel or dent. Because it is so strong, it's easy to maintain. You will not need to paint or stain your siding. To keep the vinyl looking fresh and new, you simply need to wash it approximately once a year.
Because it produces less waste during manufacturing than other siding products, vinyl is safer for the environment. It also presents fewer hazards during the installation process. Vinyl is not as much of a threat to the atmosphere as other types of siding because it emits less toxins into the air. This is particularly important if you are concerned with living a green lifestyle.
If you are considering using vinyl for your home's exterior, you may need the help of someone skilled in siding installation. Prestige Windows and Siding has the experience and a knowledgeable team of siding professionals. Our workers are exceptionally proficient in product knowledge and installation. They can detail the advantages of using vinyl and explain how to select the right panel and style for your home.
Vinyl siding comes in an assortment of colors, textures, patterns and styles. You can customize your house to create a classic or contemporary look. Many selections are fabricated to mimic the beauty of natural wood. Regardless of your preferences, we are ready to help you choose the best option to fit your needs and tastes.
In addition to improving the look of your home, installing vinyl siding benefits your budget. Because it requires little maintenance, you can save on costly repairs and upkeep. Vinyl is also substantially less expensive than other types of exterior siding materials. It acts as added insulation for the house as well, so it can boost energy efficiency and save you money in the long run.
By using this type of siding, you can maximize the value of your home with very little effort. Vinyl offers a fresh aesthetic, which means potential buyers may find it inviting and charming. Because vinyl is long-lasting and sturdy, the value of your home will not decrease due to the exterior's appearance. The low-maintenance qualities may also be appealing to buyers.